Journal of Counseling Psychology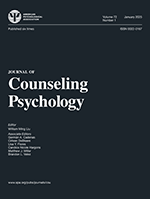 Editor: Dennis M. Kivlighan, Jr.
Supplemental Material for
Protean and Boundaryless Career Orientations: A Critical Review and Meta-Analysis
Brenton M. Wiernik

and Jack W. Kostal
Journal of Counseling Psychology, Vol. 66, No. 3, pp. 280–307
View article:
https://doi.org/10.1037/cou0000324
Files:
Protean.pdf


The reader is expected to respect the intellectual property of the author and the copyright of the American Psychological Association (APA). The content should not be reused without permission from the author and APA.